WASHINGTON, DC | October 6, 2014 - This week on BIZ+SOCIAL, we bring you the best from the New Global Citizen, Harvard Business Review, 3BL Media, and more.
GLOBAL PRO BONO

Ashoka will join Taproot Foundation for the second year to showcase and explore the impact of pro bono partnerships. Ashoka is the world's largest network of social entrepreneurs, which seeks to empower everyone with the skills of changemaking to solve complex societal problems. In our world of accelerating social change, business leaders, citizens and social entrepreneurs must collaborate across sectors effectively to solve complex problems. Building these relationships through pro bono collaborations requires an innovative and empathetic mindset, and cultivates critical skills that are key to leadership in a rapidly changing world. Ashoka's Executive in Residence program is excited to highlight these collaborations through daily interviews, live Webinars, and Twitter conversations. On Tuesday, October 21, from 12 p.m. to 1 p.m. Eastern Standard Time, Ashoka's Executive in Residence team will host a live webinar featuring Shawn Liu, Global Head of Leadership Development at Boehringer Ingelheim, and Shannon Sisler, an Executive in Residence alumna and Senior Vice President of Talent Management & Transformation at Western Union. The panelists will examine how pro bono collaborations create innovative leadership development opportunities for business by leveraging partnerships with Ashoka's leading social entrepreneurs. Read More…
IMPACT & INNOVATION
"Empathy." That was not the word I expected to hear at the recent conference hosted by Supply Chain Insights, Imagine: The Supply Chain of the Future, especially when CEO Lora Cecere opened her keynote with the observation that most companies have supply chains that are "stuck at the intersection of operating margins and inventory turns." However, empathy was in sharp focus throughout the two-day event. As it turns out, what ails supply chains is what ails most businesses these days: effective leadership. Yet, in the quest for supreme efficiency, organizations have placed their focus on well-defined, tightly-controlled projects and practices operating within tall silos that even the most powerful CEOs have difficulty managing. That is not to say that good project management and efficiency aren't important. But they are only important in the context of a well-understood system, which is inherently complex, requiring 'end-to-end' management, even as it loops back on itself, as in the most sustainable of systems, and begins again. The best supply chains are agile and responsive; they don't just react, they sense. They are characterized by balance, strength, and resiliency, of which the most critical…Read more…
LEADERSHIP
I've been a new manager five times in my career: once as a first-time manager at Google going from being a teammate to leading peers, three times as I was promoted within Google, and most recently as the new Chief Revenue Officer for UberConference, a teleconferencing startup in San Francisco. What I've found is that success out of the gate is normally tied to being truly open to learning, communicating openly and honestly, and ultimately being prepared to take action when you know where the team needs to head. To that end, here are the key things I've learned along the way: Over-communicate. When someone new joins a team, it generally creates some nervousness. Everyone wants to know what you're going to change and where you're going to take the direction of the team. Be as open and transparent about what you're thinking as quickly as possible. You can start by outlining your 30-day plan. While you may not have any opinions specific to the business yet, you can tell people what you want to learn about and evaluate. Additionally, the more transparent you can be, the more comfortable people will feel being similarly candid with you. You may not know your strategy, but you can certainly talk about your values, priorities, and observations. Read More…
ENTERPRISE DEVELOPMENT
Four years ago, at the age of 28, I had a mid-life crisis. Perhaps some would say I was too young to experience such a thing, but I knew differently. I needed a change. I had been working for the past two and a half years for a large corporation in the New York City area, expanding the company's marketing operations. During that time, I had become increasingly disillusioned with traditional corporate models. Terms like 'sustainability,' 'health,' and 'save the environment' were popular buzzwords in the business community, but I couldn't help feeling that it was often more lip service than impact. Current profitability standards demand that companies prioritize maximizing shareholder profits over their potential social impact on people and communities. Companies that are most eager to embrace opportunities for visible sustainability and social impact investments are often those whose products have some negative side effect they need to mitigate. While such corporations often express interest in developing new products that could change the sustainability landscape, the default solution in the meantime often requires selling more of their existing product to drive growth. Despite the fact that I had a comfortable job, a career trajectory, and even qualified for a pension—a rarity in this day and age—I couldn't shake the feeling that by going to work every morning I was part of the problem and not the solution. Read more…
CITIZEN DIPLOMACY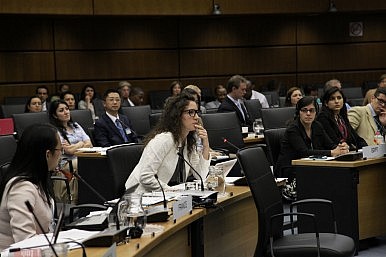 The U.S. government released its 2015 budget request for diplomacy efforts, ringing in at $46 billion. While this funding covers everything from AIDS prevention in Vietnam to peacekeeping in the Congo, there is one sliver of the budget that deserves more attention: the roughly $1 billion set aside for "public diplomacy" and "citizen exchanges." Despite its lack of buzz, this funding – which amounts to only around 1/500th of the defense budget – figures to be one of the most important investments in expanding U.S. global influence and innovation for years to come. Across the globe, nations that invest in people-to-people diplomacy are better positioned to reap the awards of the information economy. With advancements in communications technologies, nations would be wise to bring their citizens into the fold, particularly through international exchanges in fields like entrepreneurship, science and technology. If embraced, people-to-people diplomacy could unleash a new wave of innovation and economic growth. But while it sounds simple and easy (and it is), the problem is that most politicians don't support it. Far from an economic silver bullet, the very tools that can be used to bring nations and people together can just as easily be used to grind government to a halt. Read More…
MORE
IBM, EY, and PYXERA Global to talk about the shift from management to partnership at COMMIT! Forum
Hot Stoves & Fiery Fuel: Designing Change in Kenya
Breaking Boundaries with Net Impact: 2014 Conference November 6-8 in Minneapolis
Global Problem Solving Without the Globaloney
The New Global Citizen chronicles the stories, strategies, and impact of innovative leadership and international engagement around the world. This is the world of the new global citizen. This is your world.