Authored by Laura Georgianna, who is a Director in the Entrepreneurial Leadership Initiative at the ILR School and Director of the Roy H. Park Leadership Fellows Program for the Johnson School at Cornell University, and Michael Serino, who is formerly Executive Director of Human Capital Development and the Entrepreneurial Leadership Initiative at the ILR School at Cornell University. 
Over the last ten years, leading companies have begun investing their greatest asset—their human capital—in "giving back" by improving lives around the world through global pro bono programs. Such programs place employees in short-term volunteer assignments within local social-sector organizations for a period of three weeks to three months in emerging or growth markets, from India to Brazil. While the pursuit of philanthropic community impact will likely continue to underpin such initiatives, some corporations are realizing that deploying employees as pro bono consultants can have two other significant and desirable effects as well. First, such programs can help leaders develop the ability to manage in highly complex, rapidly changing, resource constrained environments, in a manner that is significantly more experiential (and as a result, sustaining) than many standard corporate leadership development offerings. Second, if volunteer assignments and corporate priorities are strategically aligned, companies can benefit from valuable market insights that volunteers gather while on assignment. When nurtured correctly, these insights can fuel new thinking and innovation across the organization.
To maximize all three of these opportunities for impact, companies have tried various program formats, with varied results. While serendipitous outcomes may occur, programs deliberately designed to address these outcomes can increase the potential for significant and sustainable results.
One company seeking to more fully achieve these opportunities for impact is Merck, known as MSD outside of the United States and Canada. Two years ago, Merck embarked on a journey to evolve their program design with the goal of broadening and deepening its impact. As a result, Merck began actively building a systemic approach to achieving the triple impact opportunity of the program by focusing on alignment, capability, and community within its Merck Fellowship for Global Health.
Project Alignment Drives Strategic Impact
The Merck Fellowship for Global Health starts with the strategic selection of NGO partners and projects, guided by Merck's mission and philanthropic priorities. Merck seeks assignments with social sector partners that are aligned either to Merck's commitment to global healthcare challenges in areas such as maternal mortality and infectious diseases, or provide a learning opportunity to better understand unmet medical needs in a defined patient population of interest. Each project has an executive sponsor who provides input into the selection of the partners and associated projects and is passionate about the results of the assignment. Once final selection of projects and Fellows are complete, Sponsors help to shape the experience for impact, provide support and resources as needed for success in the field, and enable a Fellow's insight to be integrated into their work at Merck upon their return.
"The Fellows not only impact the success of our key NGO partners in the fight against maternal mortality," said Priya Agrawal, Executive Director of Merck for Mothers, "but also bring back key insights from the field that help our team better achieve our goals."
Merck also takes great care to ensure a Fellow's talents meet a project's demands. Merck starts with project identification, developing a pool of options and then, currently with the help of PYXERA Global, conducts a robust application process to match top talent with appropriate assignments. Each year, approximately 30 Fellows are given the chance to utilize their skills to have a sustained impact on their host partner, to develop their leadership skills through experiential learning, and to take the initiative to seek out insights important to Merck to fuel internal leadership and innovation. A systemic view that deliberately aligns strategy, projects, and talent drives results that matter to both the global health community and to Merck.
Capability Development Before, During and After Deployment Delivers Successful Outcomes
The Fellows selected are all highly skilled individuals with a record of strong performance in the company, yet the context for these assignments is significantly different from their daily work within a large global corporation. Merck uses an action learning approach to help Fellows develop the skills, methods, and tools they need to thrive in a highly dynamic, resource-constrained, culturally different context. This approach focuses on speed, quality, relevance, and sustainability of impact by engaging fellows in capability enhancing activities before, during, and after their field assignment.
Merck's action learning educational program, currently designed and delivered by our team at Cornell University, draws upon the skills and mindset of an entrepreneurial leader. Each Fellow seeks to make a sustainable impact with limited resources in a brief timeframe, and bring back insights to fuel internal leadership and innovation within Merck. In many ways, a Fellow's ninety-day assignment mirrors the rapid cycle innovation challenge that many entrepreneurs face, which makes the entrepreneurial construct a useful frame for Fellow development. The Cornell program is designed around four primary characteristics of an entrepreneurial leader: Curiosity, Commitment, Collaboration, and Connectivity.
"We learned to think more deeply and empathetically about the needs of the NGO and their constituents", stated Scott Wright, a current Merck Fellow, "and that helped us frame the opportunity more clearly and deliver greater value."
Recognizing the dynamic nature of the experience, Merck worked with Cornell to design a phased approach to capability development. Before their assignment, the Fellows undertake pre-work that includes curated reading assignments, a leadership assessment, and field assignment preparation. Shortly before departure, Fellows attend a two-day interactive workshop where skill development focuses on enabling insight, team effectiveness and successful goal attainment within the field assignment. At the start of the field assignment, Fellows join regional launch workshops in cities close to their project sites that bring together their host project leads and local MSD employees to ensure alignment and mutual understanding of project goals, while provided regional context of policy, access to health, as well as the company's market presence in the area.
Halfway through the assignment, a mid-Fellowship check-in provides opportunity for reflection, revisiting key capability concepts, and course correction, if needed, relative to assignment goals, personal goals and Merck-related insight creation.  Lastly, upon return, Fellows once again convene for a two-day reintegration workshop to establish Impact Plans to transfer knowledge back to Merck and to initiate innovations based on the insight they gained in the field. In addition, Fellows attend two facilitated follow-up discussion sessions, one after ninety days and the other after six months, to mark progress against their Impact Plan and share learning across the Fellow community.
Taking the time to fully prepare and support the fellows before, during, and after the assignment with the skills, methods, and tools that can enable success greatly increases the likelihood of impact in the field and impact for Merck, through applied insights, upon the Fellows' return.
A Community of Fellows Fosters a Culture of Innovation and Collaboration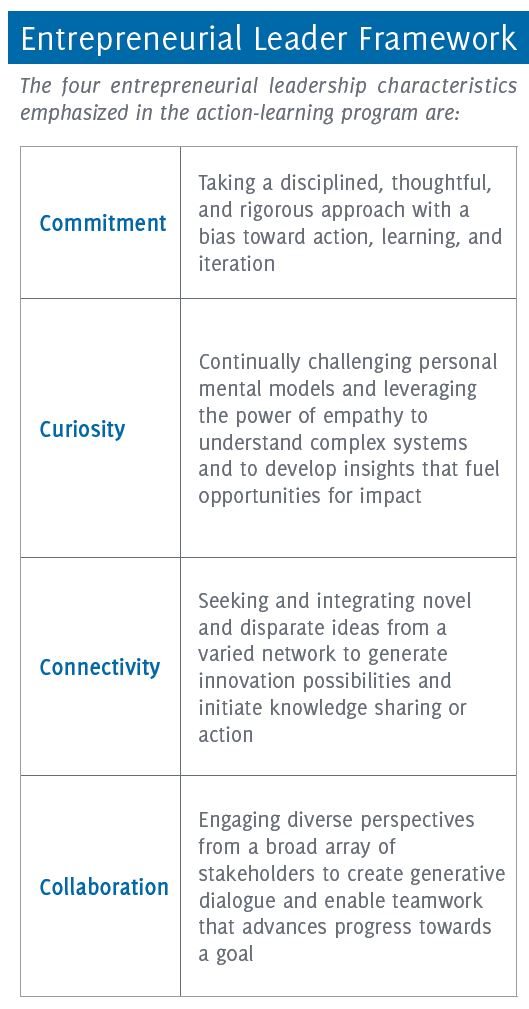 The third element of Merck's systemic approach to enable impact is to leverage the power of community to increase all three of the impact goals. Merck has built an active community of alumni fellows who continue to stay involved in program development and execution. Those in the alumni community bring forward partners and projects for consideration, assist in recruiting new fellows, and act as mentors to the new fellows throughout the fellowship experience. In this mentor capacity, they provide guidance before departure, coaching while in the field, and advice and resources to support the implementation of each Fellow's Merck-oriented Impact Plan upon return.
This ongoing engagement of Fellows fosters a grassroots community, spread across the global organization, with a clear focus on learning how to deliver greater value to patients. This community has a deep understanding of the global health context, an appreciation of how to drive change within a highly complex system, and a willingness to advocate for changes that help Merck to expand its collaboration among internal and external constituents to increase its impact around the world.
Through the development of a systemic architecture the Merck Fellowship program is achieving the benefit of designing to desired outcomes. While simply sending volunteers out into the field can drive beneficial impact on local communities, companies that are seeking to truly maximize the impact of their global pro bono programs should explore how an increasing focus on strategic alignment, capabilities development, and community can deliver significant returns. In the case of Merck, prioritizing the power of global pro bono and creating the structures to enable their people to succeed, is driving both sustainable impact and powerful innovation within the company and communities around the world.

Michael Serino is formerly Executive Director of Human Capital Development and the Entrepreneurial Leadership Initiative at the ILR School at Cornell University. He led an organization that designed and developed learning programs for companies that prioritized human capital as a competitive advantage.