Are leaders born or made? Why not both! But, if you don't have the raw material, it can be tough to develop, and simply having leadership talent is insufficient. In many ways, leadership capability is a lot like physical strength. You may be born with the capacity for amazing physique, but unless you work out—stretching, strengthening, practicing—you will not gain the skill, strength, or finesse required to deliver winning performance.
Global pro bono, or international corporate volunteerism, is leadership bootcamp that builds capacity in a fast, efficient, and economical way. It's a workout that exercises all kinds of leadership muscle, and builds the types of teams and people that leading multi-national corporations have identified as top talent requirements, often at a fraction of the cost of other approaches.
IBM's Corporate Service Corps (CSC), which uses an approach first described in a 2009 Harvard Business School Case Study, has long been the pro bono volunteerism industry standard. Since its launch in 2008, nearly 1,500 IBMers have participated in CSC. The program is championed for its "triple win" that delivers benefit to the company from market insight and exposure, to the local client in the form of free consulting services, and to the employee, through leadership skill development.
But which leadership skills?
IBM identified seven key characteristics for a successful global leader that are linked to the company's unique priorities for talents that enhance global virtual teams. As I reflected on the leadership development capacity of ICV, I wondered how those same characteristics might stack up against a leadership competency model that has been developed and verified by leadership development experts.
The Polaris® Global Leadership Competency model is a research-based model developed by Bruce Griffiths of Organization Systems International and Carolyn Feuiller that combines cultural intelligence, emotional intelligence, and organizational leadership. The Polaris model measures five dimensions of leadership—personal, social, global business, leadership, and cultural—exhibited through nineteen competencies, ten of which ICV accelerates or impacts.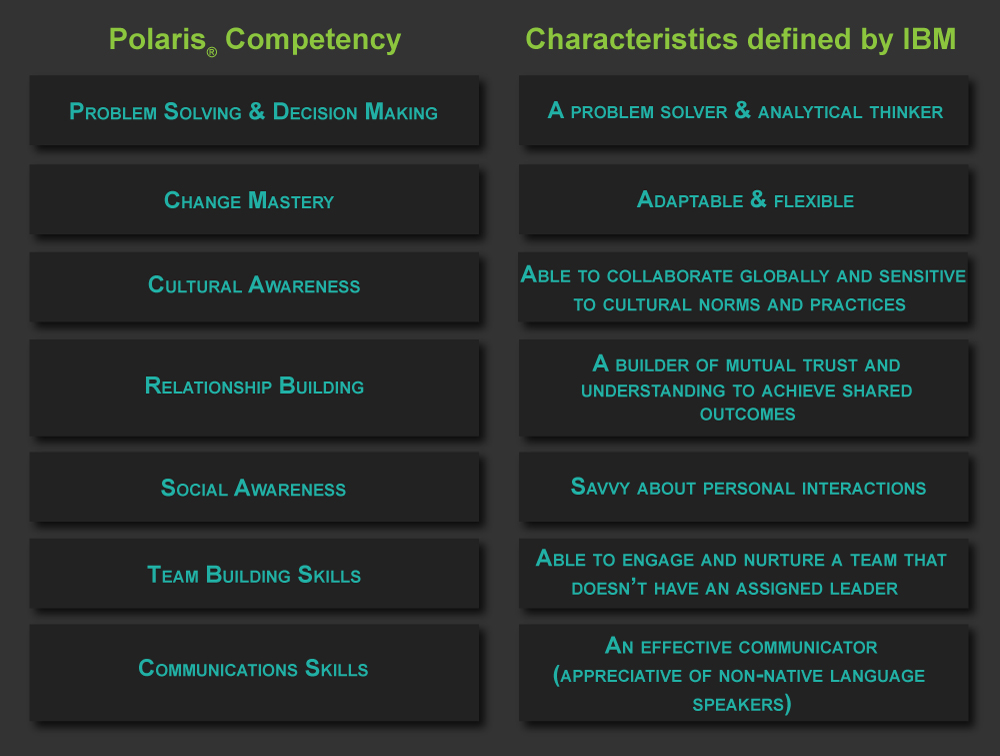 In addition to Problem Solving & Decision Making, Change Mastery, Cultural Awareness, Relationship Building, Social Awareness, Team Building Skills, and Communications Skills, the Polaris model also recognizes additional competencies that are implicit in IBM's list, including Composure, Learning Agility, and Influence Skills.
Because experience is the best teacher, ICV programs are almost always more effective at global leadership development than classroom-based programs, at least that's what we learned from a George Washington University Study published in 2012. It's also much less expensive than an expatriate assignment, ($15,000 per participant for a 4 week pro bono assignment compared to several hundred thousand for a single individual), the more traditional approach to global leadership development. In fact, a team of 10 costs significantly less than a single expatriate experience, and offers additional return on investment through the development of corporate reputation, stakeholder relationships, and new market insights for growth.
This approach also turns out to have potential for global leadership assessment, especially when paired with a "360 degree" leadership assessment of these competencies before and after the ICV experience. By coupling the assignment with a leadership diagnostic—like the leadership assessment the Polaris model offers—participants are more aware of their strengths and weaknesses, and can focus on them appropriately over the course of their ICV experience.
This type of accelerated, experiential leadership development—not simulated, but real—is relatively new. So far, none of the corporate programs (at least those I know of) are rigorously researching the comparative long-term effectiveness, based on an agreed-upon standard. But I think it's an interesting question, and one I hope more corporations will consider. Even without this, however, using a competency model like Polaris as an overall leadership assessment rubric—prior to making international assignments—could quickly "weed out" inappropriate candidates and offer the right candidates an accelerated and cost effective leadership experience.
Most importantly, ICV creates a pathway for potential global leaders to better understand the challenges and opportunities that exist around the world. According to Dr. Ángel Cabrera, the President of George Mason University, author of Being Global, and the keynote speaker at this year's ICV conference, this transformation in perspective is crucial, "Our ability to build a truly sustainable and inclusive world economy will depend on how well we help new generations of leaders to become global."
Just like professional athletes, reaching peak leadership performance requires dedication, drive, and adaptability. The world belongs to those who can perform; ICV—leadership bootcamp—can help get future global leaders in shape.

Laura Asiala is the Vice President, Public Affairs at PYXERA Global. Passionate about the power of business to solve—or help solve—the world's most intransigent problems, she leads the efforts to attract more participation of businesses to contribute to sustainable development through their people and their work. She also serves on the Board of Directors for Net Impact, a community of more than 40,000 student and professional leaders creating positive social and environmental change in the workplace.