By Amanda MacArthur and Harris Ginsberg
Sending senior executives into emerging markets may not be an obvious way to develop strong leaders, but many top companies are doing just that. Once-marginalized markets in the Global South are quickly becoming critical revenue drivers for corporations. Business leaders with a nuanced understanding of how these markets operate can be the difference between a business's stagnation and its continued growth. Yet emerging and growth markets can seem opaque to many executives who have spent their careers in more established markets. That's why travel is so critical—the lessons learned on-the-ground in growth markets can prove vital to understanding consumer needs and demand in the future.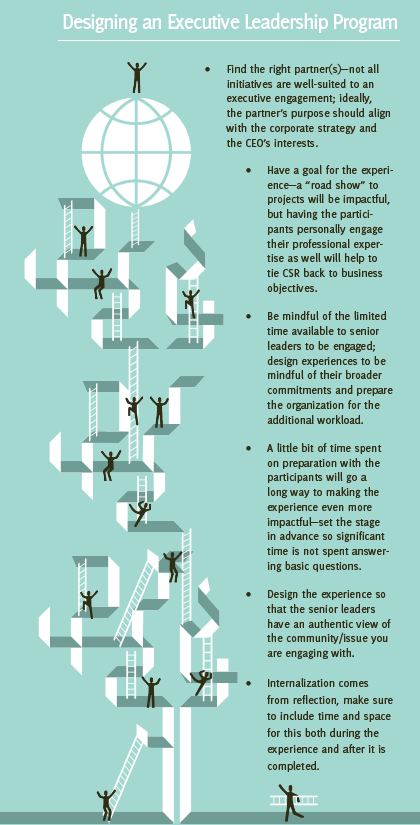 Travel abroad has long been recognized as a way for students to expand their horizons. But in the business world, work-related visits often insulates the traveler from their local environment. Executives stay in international business hotels that could just as easily be in Cleveland as in Mumbai. They are transported from their hotels to modern office buildings by private drivers and order hamburgers from room service for dinner. Meanwhile, local consumers are traveling by rickshaw, drinking masala chai from street vendors and confronting marketplace realities a global executive would never see.
According to Bloomberg, the world's fastest growing economies in 2015 are China, the Philippines, Kenya, India, and Indonesia, all of which forecast annual growth rates higher than five percent1. While it is increasingly possible to hire strong local talent in each of these countries (as it is in most emerging markets around the world), a multinational company still requires leadership that understands the differences between American and foreign markets. Failure to do can come at great cost, as General Motors learned after launching the Chevrolet Nova in Latin America. In Spanish, no va translates as "doesn't go." For reasons that would have been obvious to a business leader with an understanding of the local market, the car didn't sell and was quickly discontinued.
Global pro bono programs—which allow employees to engage their professional skills for a period of weeks or months within social-sector and government organizations—are an increasingly popular way for companies to introduce personnel to emerging markets at the ground level. Participants in programs like IBM's Corporate Service Corps, SAP's Social Sabbatical, and GSK'S PULSE program come back from their experience reporting an increased ability to understand client needs, a business's role in society, and a culture more generally. An employee base with a global perspective is critical for the long-term health of the bottom line. But without a similar experience for senior leadership, opportunities may be missed in the short-term. Global pro bono programs are generally not available to senior executives who are simply unable to be away from their responsibilities for an extended period of time.
Companies have provided senior executives with a "ground level" glimpse of emerging markets through visits abroad and brief meetings with high performing social entrepreneurs, leading NGOs, or relevant government agencies. While such trips do provide some insights into new markets for participants, they are often missing a critical component—linking the experience and learnings back to the company's core business. Because they are not asked to engage their professional skills, there can be a tendency not to think about what they are observing and hearing through a business lens. Developing living case studies—through which executives travel to an emerging market and utilize their professional skills in the service of a stated challenge (often posed by an NGO)—facilitate both experiential and professional learning objectives. Making the projects team-based and spending the time up front to work closely with the local client organization to develop the project and to prepare the team allows for a meaningful engagement to be undertaken in as little as five business days. Pro bono-based executive development programs enhance participants' leadership courage, strategic and systemic thinking, and marketplace knowledge by exposing them to new and often challenging environments.
Yet, successful programs are harder to design and execute than they seem. Finding the right partner, emphasizing local insights and stakeholder engagement, and creating structured opportunities for reflection are critical to a program's success.
Find the Right Partners
Companies with global pro bono programs consistently report that partnerships—both internal and external to the company—are key to success2. The same is true for programs that target executives. While most executive development programs are housed in the human resources department, adding a global pro bono experience provides the opportunity to partner with the company's corporate social responsibility team. This enables participants to explore the social value of business as a strategic asset.
The most successful projects provide the opportunity for executives to actively engage their professional talents while learning something new about their operating environment. It is critical to select the right external partner that can serve as the living case study. The selected organization should have a mission that engages the company's consumer segment and deals in similar issues, such as health, technology, or education. By ensuring the alignment of mission and issue, executives have the greatest opportunity to capture insights that can inform their own future business decisions.
Strive to Develop Local Insights Through Effective Stakeholder Engagement
Working collaboratively with a team of their peers in the field under difficult circumstances, executives find practical opportunities to reflect, take on new roles, and see the market from new vantage points. Walking through open-air markets to learn about consumer purchasing preferences, speaking with patients with non-communicable diseases at community clinics, examining agricultural supply chains, and discussing infrastructure and funding challenges with government officials contribute to a deep understanding of the needs of a particular market. In contrast to programs that simply ask participants to visit and observe, a program with a pro bono component actively engages professional skills, forcing participants to wrestle with local realities while delivering business value. The depth of a pro bono engagement affects participants at a deeper level that each carries back to the business.
Perhaps the most important aspect of an executive program is the opportunity to actively engage with a local community, especially stakeholders at the bottom of the pyramid, to understand their needs and aspirations, if only for a moment. Beyond market insights, experiencing the realities of everyday people—not just the local business elite—encourages participants to stretch their listening and observational skills. Meeting with social entrepreneurs, businesspeople, and government officials will certainly provide great business insight. However, if executives are asked to assess how an NGO can better meet the healthcare needs of rural farmers in Rajasthan, India, meeting with those farmers directly can help them understand how to improve an NGO's operations, but also why those farmers make other decisions. The average consumer becomes a real person, not just someone seen from the backseat of a taxi.
Internalization Comes From Reflection
For the experience to be truly impactful, it should not end once a participant steps off the plane or presents their findings. The best programs provide opportunities for participants to reflect during the experience, at its conclusion, and even several weeks or months later. Doing so can also help to reframe the experience through a business lens. Some companies have an executive coach travel alongside the team to assist as they seek to internalize what they are seeing, hearing, and experiencing. It is also helpful to have a third-party guide who can provide objective context on the intricacies of the local environment.
As business landscapes continue to change globally, the demands on senior leaders similarly expand. Introducing a global pro bono component to talent development provides executives with the insights to adapt their perspective to diverse challenges in order to improve business outcomes and human well-being around the world. No company, government ministry, or NGO can effectively address global challenges on its own. Rather, progress requires partnerships across sectors. With greater understanding of the realities of emerging markets, senior executives are better prepared to create meaningful and sustainable initiatives that more effectively grow the business and improve lives.
To learn more about the importance of service in global talent development, read The Future of Executive Leadership Development.
---
1. Robinson, J. (2015, February 25). The 20 Fastest-Growing Economies This Year. http://bloom.bg/1SCt7Vt
2. Corporate Global Pro Bono: The State of the Practice, PYXERA Global, 2014

Amanda MacArthur is the Vice President of Global Pro Bono and Engagement at PYXERA Global where she leads the organization's Global Pro Bono and MBAs Without Borders programs, as well as the Center for Citizen Diplomacy. In this capacity, Amanda designs and implements corporate social responsibility programs for the public and private sector focused on skills-based volunteerism in emerging markets, leadership development, and sustainable economic impact. Most recently, Amanda played a key role in designing IBM's Corporate Service Corps, while overseeing Global Pro Bono programs for PepsiCo, Pfizer, FedEx, and several others.