A little less than a year ago, I was in Nairobi hosting a meeting between Acumen's social enterprises and a group of global corporations interested in engaging more closely with local social entrepreneurs who were meeting for the first time. I had arranged for them to visit one of our portfolio companies, and I picked Sanergy, a company at a relatively early stage, working in Mukuru, one of the largest slums in Nairobi, that provides access to badly needed sanitation services. Sanergy both showcased Acumen's work and offered the visiting corporate representatives a clearer view of the potential impact of a social enterprise, especially in a market like Kenya.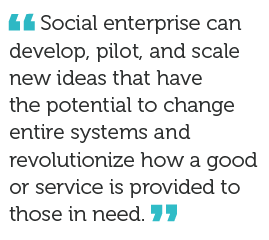 As we all settled into Sanergy's conference room, it dawned on me exactly what was about to happen. I was preparing to accompany a group of corporate leaders on a tour of a facility that collects human waste to make organic fertilizer. I had quite possibly lost my mind. I started to doubt that the senior corporate representatives, including a CEO and a foundation head, would share my enthusiasm for Sanergy's work when it involved walking past mountains of human waste, waving away flies, and learning the intricate mechanics of a dry toilet.
What happened next is what we call an "aha moment." Each of our visitors showed incredible openness, respect, and sheer curiosity for the work at hand, eager to be challenged and to expand their horizons. Since that day, I promised never to underestimate my corporate colleagues again, and I have seen how eager so many in the corporate world are to challenge themselves by not just stepping up, but leaping outside their comfort zones.
Investing for Sustainability, Scale, and Innovation
This explains the growing interest from the corporate world in impact investing and social enterprise, two emerging sectors that hold tremendous promise for identifying and scaling solutions to major social challenges. Impact investing has grown tremendously as an approach to solve social issues since Acumen helped create the sector ten years ago. This approach involves using finance to invest in enterprises that have social impact as a major business driver, in addition to profitability goals.
Three key issues drive the growing interest in this sector:
First, enterprise must be financially sustainable. The social impact community has grown weary of financing time-bound projects rather than sustainable outcomes, and the drive to find permanent solutions that are not dependent on grants is greater than ever. An enterprise that can generate sufficient revenue can escape this reliance on charity.
Second, the scale of the solution needs to match the scale of the problem, but many non-profits struggle to achieve scale if they rely exclusively on piecemeal grants. Social enterprises have the potential to scale if they can secure the early-stage risk-tolerant capital they need, prove their business model, and ultimately attract commercial investment.
Lastly, enterprises that can grow and last are insufficient. What makes social enterprise truly exciting is the third piece: innovation. Appropriately directed and supported, social enterprise can develop, pilot, and scale new ideas that have the potential to change entire systems and revolutionize how a good or service is provided to those in need.
The social entrepreneur brings something unique to a social challenge or market failure: iteration, risk-tolerance, and a staunch willingness to forge new ground. Sanergy, for example, dreamt up a new service model for sanitation that brings cleanliness, safety, and dignity to the process. Not only do they increase incomes through a toilet micro-franchise model, but they also convert the human waste to create organic fertilizer. With innovations like this, it's no wonder that people are taking notice.
Bridging the Pioneer Gap
Yet, the reality is many innovators still struggle to achieve sustainability and scale.  Experience demonstrates that these struggles result from two primary drivers: 1) a lack of philanthropy to support early-stage impact investment and 2) a lack of technical assistance and expertise in business management.
Through research led by the Monitor Inclusive Markets group, "From Blueprint to Scale: The Case for Philanthropy in Impact Investing," Acumen discovered that impact funds are clustering around larger-scale investments and quicker market returns as opposed to earlier-stage innovations, like Sanergy, that will take longer to reach profitability. In fact, only six out of 84 funds investing in Africa offer early-stage capital.
Acumen calls this gap in capital for early-stage social enterprises the Pioneer Gap, and it is one Acumen and its robust network seek to bridge. By investing patient capital that converts philanthropy into long-term debt and equity investments, Acumen has focused on supporting early-stage social enterprises with the potential for social impact, financial viability, and breakthrough innovation. Indeed, many new organizations have already crossed this Pioneer Gap, accessing grant funding in the earliest stage and refining their model with grant-backed investments from organizations like Acumen until they attract other impact investors and ultimately commercial investments. To date, Acumen has invested $87 million in 81 companies that have attracted an additional $500 million in capital following Acumen's initial investment.
What's more, the promise of social enterprise has begun to deliver impact. Nine of Acumen's portfolio companies are currently impacting over 1 million lives each, and the Acumen portfolio has touched over 120 million lives.
Crossing the Knowledge Frontier
At the same time, a number of companies have fallen far short of their goals, highlighting the second main obstacle facing social enterprises. Many not only lack access to long-term patient capital, but also to knowledge, resources, and expertise. Emerging enterprises need access to business expertise above all else, from financial management to marketing, talent management to strategic planning. So how can promising social enterprises access the business and technical expertise they need to scale? To address this, a natural opportunity to collaborate is emerging between leading corporations and the social enterprise space, specifically focused on the exchange of knowledge, and the infusion of human capital alongside social impact and profit-driven investments.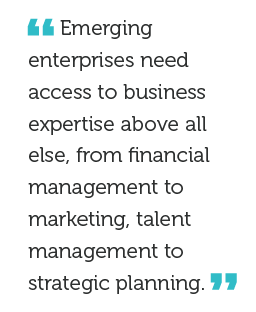 Social enterprises can benefit tremendously from the expertise, technologies, and networks embedded within leading corporations. But it's not just social enterprises that stand to benefit; corporations increasingly understand that their business depends on the local knowledge of social entrepreneurs, whose commitment to sustainable development will pave the way for their own business streams in those markets.
This past May, with support from our partner The Dow Chemical Company, Acumen brought these two unlikely but complementary partners together at the first Technical Assistance Summit in Nairobi. The meeting, which sought to catalyze collaboration, led to targeted technical assistance and new relationships between the participating social enterprises and the corporate community. It was a first step, but a critical one, that will enable Acumen to expand the role of corporations supporting social entrepreneurs.
Enabling impact investing and social enterprise to reach their full potential will require both greater strategic early-stage philanthropy and human capital investment. As the value of collaboration between emerging social enterprises and large corporations becomes clearer, how these two types of organizations partner must be further explored and refined. Fortunately, these are questions best answered through experiential learning and reflection. Often the best way to learn is simply by doing.
Photos courtesy of Sanergy.

Yasmina Zaidman is the Director of Communications and Strategic Partnerships at Acumen, where she is responsible for Acumen's external communications and leads its efforts to engage with strategic corporate partners who share Acumen Fund's commitment to supporting entrepreneurial approaches to tackling poverty.