This is part two in a three-part series about innovations in global sanitation, following the Unclogging Blockages in Sanitation conference in Kampala, Uganda. Read part one. 
How many times have you thought about what happens when you flush the toilet?
If you're like me, the answer is never.
In most developed countries, a quick toilet flush can make a thousand tiny disgusting problems disappear in an instant. In emerging and frontier markets, the sanitation business is completely fragmented.
Even in homes that do have toilets, the process of human waste elimination is not straight forward due to a lack of basic infrastructure.  First, a toilet must be installed. Then, someone must empty the waste, which must then be taken somewhere, which unfortunately can often mean in the countryside, river, or sea.
Growing Up with John
According to Andy Naracott, the Manager of WSUP Enterprises, the system is broken—or non-existent—which means the system is ripe for market innovation.
Andy is knee deep in the world's sanitation struggles. Committed to catalyzing change in the business, Andy recently relocated his family—his wife and three children—from London to Nairobi to launch Water & Sanitation for the Urban Poor (WSUP)'s new Division, WSUP Enterprises.
From an early age, Andy understood the business potential around water and sanitation—his father ran a luxury mobile toilet business serving the UK's event and hospitality industry. Trained as a chartered civil engineer, Andy first worked with Water & Sanitation for the Urban Poor (WSUP) in 2009 as a Project Manager at Halcrow, a global engineering consultancy, on a slum improvement project in India.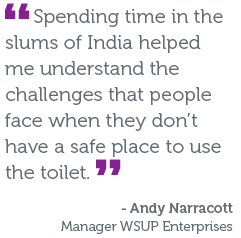 Andy witnessed two things in India that motivated his commitment to transform sanitation. First, he experienced first-hand the severity of the challenge sanitation posed to people living below the poverty line. At the same time, he saw how eagerly many people in India embraced the opportunities (and risks) of entrepreneurship to improve their lives and the lives of others.
In India, he watched people create a business out of anything—selling tea off the back of a bicycle or cooking up biscuits to sell in the market. "Spending time in the slums of India helped me understand the challenges that people face when they don't have a safe place to use the toilet." Business and innovation were just as alive at the base of the pyramid as they were at the top. If people could develop innovative and frugal solutions in other industries, why couldn't they do the same in sanitation? Andy was inspired.
At the end of that year, Andy found himself back in Britain as WSUP's Chief of Party. There, he got a crash course in understanding the donor world and donor relationships with NGOs. He observed the paradigm in which success is measured in the numbers of toilets and taps distributed and was quickly disillusioned with what he believed to be short-term, tactical interventions against a problem that required a long-term strategy.
On a chance encounter, he met someone on Unilever's R&D team. Unilever, familiar with Andy's background, wanted to get his thoughts on how the company could get involved in sanitation in Africa. They had designed a branded portable toilet and wanted to know if he thought it would resonate with people who didn't have access to intricate sewage systems.
For Andy, the light bulb came on: "This is how private sector can use human-centered design to create tailored solutions to solve this enormous complex challenge." From there, WSUP and Unilever approached IDEO, an innovation design firm based out of San Francisco, and convinced them to send a group of designers to Ghana with Andy.
Building a Mobile Sanitation Supply-Chain
Together Unilever, IDEO, and WSUP went to Ghana to understand the market needs and to design a toilet and business model that was accessible to residents of low-income urban areas. The pilot program, Clean Team Ghana, started with 20 families, which quickly grew to 100.
"Working with a team of multi-disciplinary designers from IDEO provided refreshing insight into how the private sector has long converted consumer need into demand. Applying insight, observation, and empathy in replace of simply asking people what they want was, for me, what the development sector so desperately needs."
The business model was simple. Customers receive a branded and attractive portable toilet for free, and in return, pay a monthly fee for waste removal, a long-term rental and maintenance model. The toilets are fashioned with waste cartridges that are removed two to four times a week. The waste is taken to a neighborhood storage tank where a contracted local private vacuum company, or exhauster, takes it to a waste dump site.
The toilets are manufactured in China for $55 USD and after shipping costs to Ghana are added, cost the company $95. With this model, the business is able to amortize the cost over three years. The project was so successful that WSUP spun the business off as a local social enterprise that to date has served over 500 households in Ghana. Andy attributes the pilot's success to the innovation in R&D, expertise, supply-chain, and resources that Unilever was able to provide. Clean Team Ghana continues to pioneer this new market for household sanitation.
Soon after the Ghana project, WSUP, Unilever, and IDEO partnered again along with GAIN, the Global Alliance for Improved Nutrition, to launch SmartLife. SmartLife employees sold clean drinking water through door-to-door subscriptions. SmartLife used the opportunity at the doors of residents to sell additional hygiene products and educate consumers about the importance of hygiene and nutritious food. WSUP learned two keys lessons from this project.
First, the community only trusted strong, family-friendly brands. Second, messaging that focused on enabling community members to do what was best for their family carried more weight than the scare tactics typically used to motivate consumers to embrace clean water and sanitation.
After the success of these two ventures, Andy and WSUP decided to launch WSUP Enterprises, to support the development of innovative urban WASH (water, sanitation, and hygiene) business models, build local private sector capacity, and mobilize much needed capital for investment into emerging sanitation businesses. Wanting to move away from the traditional aid models, WSUP Enterprises opened its headquarters in Nairobi and hired experts in business and product development, logistics, supply-chain management, and investment. Shortly after its start, WSUP Enterprises was approached by the Bill and Melinda Gates Foundation to launch some of their new technologies into the market, using the same process they used in Ghana with the SmartLife project.
WSUP Enterprises is not only ready to pilot new business models, but they support the growth of existing local businesses by encouraging others to join the sanitation value-chain.  Knowing that sanitation is an excellent way to encourage and support local enterprise development, WSUP Enterprises set up an investment fund last year to invest in local sanitation businesses. The investment fund was WSUP Enterprises' answer to what they saw as a huge gap between micro-finance options and institutional financing.
Establishing a Sanitation Foundation
Many emerging enterprises in sanitation lack institutional access to finance, further complicating the fact that most investors consider sanitation a risky business, all but shutting out most small and medium sized sanitation businesses from receiving financing. Further, microfinance institutions could not supply the investment capital needed to properly scale these businesses in an impactful way. Andy describes the investment fund as a "pre-investment" financing option. The program enables fund managers who have the investment discipline to properly select and invest in enterprises that have promising potential to grow. WSUP Enterprises also provides their portfolio businesses with technical assistance and capacity building services. They provide a viable option for local water and sanitation businesses to succeed and prosper and help them reach the scale necessary to apply for more traditional investment loans.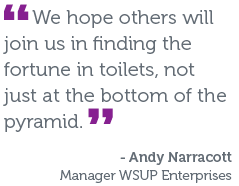 WSUP has demonstrated that with the right corporate expertise, a dedicated local workforce, and ambitious pioneering capital from private foundations, effective strategies can be developed, deployed, and scaled.
"A can-do mindset coupled with a fearless optimism can topple the most entrenched barriers to improved services. Thankfully, I have an excellent team who bring that in droves. And we have had great experience creating effective partnerships with corporations, like Unilever, seeking to engage in underdeveloped markets." But each group of committed stakeholders can only engage one community at a time, and there is so much more to be done. Yet, Andy is optimistic about what the future has in store. "We hope others will join us in finding the fortune in toilets, not just at the bottom of the pyramid."
Read Part III in the series on global sanitation innovation.
Photos courtesy of WSUP Enterprises.

Jailan Adly is the Director of MBAs Without Borders where she is responsible for the overall design and implementation of the MBAs Without Borders program. In addition, she manages various International Corporate Volunteer programs for clients such as IBM, FedEx, John Deere, Medtronic, and Novartis in Morocco, Tanzania, South Africa, Tunisia, and India.