This summer, four MBAs packed their bags and headed off to Kenya, Ghana, Zambia, and Uganda to work on water, hygiene, and sanitation-related issues (collectively known as WASH) as MBAs Without Borders Advisors.
Why would four talented business professionals leave the comfort of home and corporate job opportunities to go work in the toilet business? To be honest, I didn't fully understand the business potential of sanitation myself until last spring when I attended the "Unclogging Blockages in Sanitation" conference in Kampala, Uganda.
According to the world health organization, more than 2.5 billion people worldwide live without access to basic sanitation facilities, and one billion practice open defecation, contributing to contamination and disease. This population—25 percent of the world—represents a massive global market with tremendous profit potential. Sanitation and water problems are multifaceted and often require locally-driven, multidimensional solutions. Organizations like Water for People and Water and Sanitation for the Urban Poor (WSUP) are spearheading efforts to bring such solutions to market.
"More than 2.5 billion people worldwide live without access to basic sanitation facilities, and one billion practice open defecation, contributing to contamination and disease."
Three months after I left the conference in Uganda, MBAs Without Borders was on the hunt for four talented MBAs to support WSUP and Water for People's work.
Jeff Walcott had just completed his MBA after what he dubbed "an early mid-life crisis." Jeff was expanding marketing operations for a large corporation in New York and living what many people would consider to be "the dream." But Jeff wanted to do more. Jeff knew that business could be harnessed to solve the world's most complex challenges and, being an entrepreneur at heart, he was interested in using creativity and business to develop solutions to problems.
"Despite the fact that I had a comfortable job, a career trajectory, and even qualified for a pension—a rarity for young professionals now—I couldn't shake the feeling that by going to work every morning I was part of the problem and not the solution. I longed to work for an organization that successfully combined profitability and optimal well-being for the populations it served."
Determined to make a change, Jeff left his job to pursue an MBA focused on entrepreneurship. Now, four years after his mid-life crisis, Jeff is in Nairobi working with WSUP Enterprises to help define business models in four different markets that can provide communities with access to improved sanitation. He will spend the next six months traveling between Kenya, Ghana, Zambia, and Bangladesh.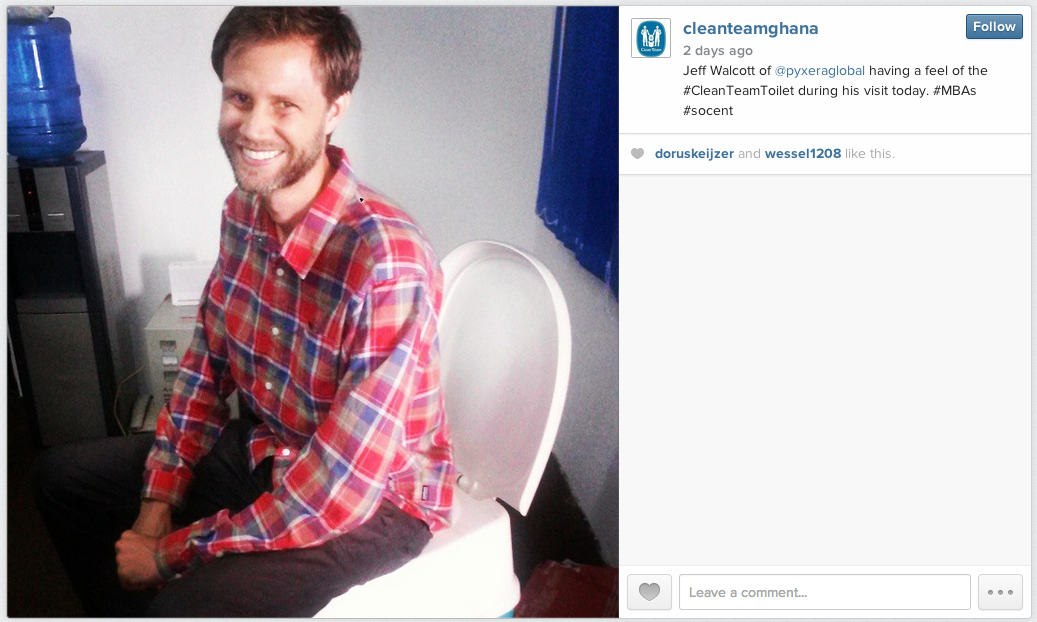 "As an MBAs Without Borders Advisor, I'm happy to be part of a new approach to improving lives, one that empowers consumers by providing market-based choices to help solve their challenges. Through this role, my passion for social entrepreneurship has converged with my ability to fully execute on business ideas. This experience will undoubtedly be one that transforms and defines my personal and professional life for years to come."
For Mikael Baker, working in sanitation was an obvious next step. Mikael spent much of his youth in Botswana, Egypt, Ghana, Kenya, and Tanzania where he witnessed countless failures of traditional development initiatives. As a result, he became interested in how social enterprises could be used to disrupt and transform the existing development paradigm.
While completing his MBA, Mikael attended a Net Impact event and was thrilled to encounter a large network of like-minded individuals with common values and goals. He joined the board of the DC Net Impact Professional Chapter, which brought him to the 2012 Net Impact Conference in Baltimore and ultimately to MBAs Without Borders.
Following his MBA, Mikael worked with University Research Co, joining the Translating Research into Action (TRAction) project. TRAction guides research on how to effectively scale up existing interventions in WASH, clean cookstoves, food security, malaria, and maternal health. His work with TRAction led him to work with WASH experts on the viability of sanitation as a business, fueling his interest in this critical sector.
Mikael had a strong desire to return to Africa but wanted to do so in a manner that was impactful—he just needed the right opportunity. Since his first introduction to MBAs Without Borders in 2012, Mikael had gotten into the habit of checking the opportunities page. When a position supporting Water for People, a global NGO focused on increasing access to clean water and improved sanitation in emerging markets opened up, Mikael seized the opportunity. Water for People is launching a pilot aimed to support sanitation enterprises in Uganda and was looking for an MBAs Without Borders Advisor to help support its development.
---
---
"My desire to contribute to economic development in Africa and my sense of adventure prompted me to look for a career move that would take me back to Africa, even if only on a short-term basis" said Mikael. "I decided I would devote my energy to tackling sanitation challenges if given the opportunity. The sector is ripe for innovation, and I want to help bring innovation to scale because of the social and economic impact that will follow."
Now, Mikael will spend the next year in Uganda working with Water for People to launch Sanitation Solutions Group. The position will enable him to develop a robust and well-rounded understanding of social enterprise in emerging markets as he helps build a new social business sector, launch and scale a startup social enterprise, pursue investment opportunities and develop business plans with micro-entrepreneurs.
Krystal Kovalik, an INSEAD graduate and self-described "frugal innovator" is working as an MBAs Without Borders Advisor with Clean Team Ghana.
Clean Team's innovative business model enables consumers whose homes are not served by municipal sewage systems to rent portable, private toilets. Clean Team collects the refuse several times per week and is working toward turning it into energy, fulfilling one of society's most basic needs—sanitation—with the bonus of a positive by-product.
The idea of going to Kenya, Ghana, Zambia, or Uganda for six to 12 months sounds fascinating to most people I speak with, but having the guts to actually get on the plane is much more difficult than it sounds. Effectively addressing a serious health challenge in what may be the world's most unglamorous sector takes a whole new level of courage. The work might be dirty, but the potential for impact is enormous, so much so that The Bill and Melinda Gates Foundation allocates almost $80 million a year to address WASH-related issues. Addressing sanitation would not only improve the health and safety of more than 40 percent of the world's population; it also creates the opportunity to foster viable local businesses to help those communities thrive and prosper.
Khadija Jiwani, like Jeff, Mikael, and Krystal, was drawn to MBAs Without Borders because of her belief in the power of business to drive change, and her unquenchable entrepreneurial spirit. It was her sense of adventure, grit, and tenacity that gave her the courage to accept the offer, pack her bags, and move to Zambia—one of the world's fastest economically reforming countries—for the next year.
MBAs Without Borders Advisors may have diverse and varied backgrounds, skills, and interests, but they often share a few critical characteristics—courage to forge into the unknown, resilience to bounce back from failure, and the awareness to understand that global connectedness is key to our collective progress.
"Routine. Just the thought alone makes me squirm. There is a thrill in the unexpected and, as it turns out, I have a keen ability to adapt quickly to changing environments, to thrive in chaos and ambiguity," said Khadija. For as long as I can remember, I've always been drawn towards the next new challenge or adventure."
Khadija, Mikael, Jeff, and Krystal will be communicating throughout their experiences—follow them on the New Global Citizen.
Feature photo: Water for People

Jailan Adly is the Director of MBAs Without Borders where she is responsible for the overall design and implementation of the MBAs Without Borders program. In addition, she manages various International Corporate Volunteer programs for clients such as IBM, FedEx, John Deere, Medtronic, and Novartis in Morocco, Tanzania, South Africa, Tunisia, and India.