For a long time, I have focused my studies and work on the topic of sustainable business initiatives as a catalyst for social and economic development. But it wasn't until I arrived in Kanjiramattom as an MBAs Without Borders Advisor that I ever thought to consider the economic and social implications of an object so seemingly simple as a towel. Kanjiramattom is a tiny village in the southern Indian state of Kerala. Situated between the sweeping Malabar Coast and the intensely lush tropical backwaters, it's where I had my first opportunity to visit a handloom cooperative. Here I came to appreciate, for the first time, the extensive skill, effort, and time required to hand weave a piece of thorthu: the traditional Kerala fabric woven of pure cotton and known for the superb qualities—soft, light-weight, quick-drying, and highly-absorbent—that have made it historically indispensable in Kerala households.  Kanjiramattom is also where I met Mani-chettan—a master thorthu handloom weaver, and one of the last of his kind.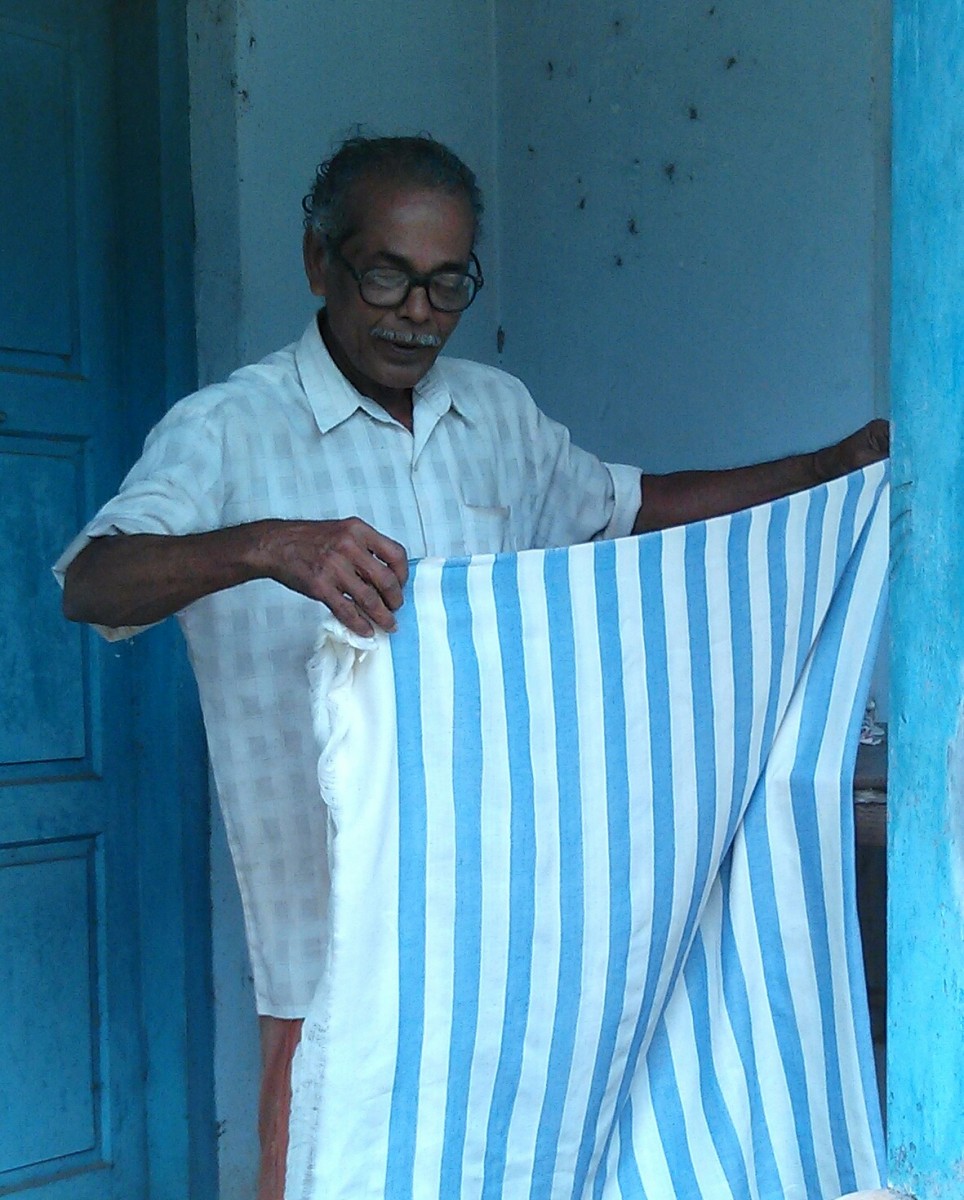 Mani-chettan has been spinning cotton and weaving thorthu for much longer than I have been alive. His more than 40 years of experience are expressed, with remarkable elegance, by each thread woven into his stunning fabrics and, less subtly so, by the numerous awards he has received for his fine craftsmanship. But over the years, Mani-chettan has watched his local weaving cooperative shrink as dwindling demand and an influx of cheap power loom products have deteriorated the financial sustainability and aspirational value of hand weaving as a profession.
Even as India's hand woven fabrics are being celebrated on runways and in exclusive shops around the world, compensation among weavers typically remains unreasonably low when compared to other skilled laborers and generally inconsistent with the time and effort dedicated to each piece. For example, an experienced and diligent weaver spends an entire day to finish roughly seven traditional thorthu pieces (54" by 27") which are then sold for about ₹40 (US$0.70) per piece in the local market, where the commonplace-ness of thorthu and a history of government subsidization have left the fabric unappreciated and poorly valued. The time quoted here does not include the labor-intensive pre-looming process, nor does the price quoted fully illustrate the pittance ultimately received by the weaver after materials costs are deducted. Worse still, the only remaining source of this revenue for the Kanjiramattom cooperative is a government supported order—one which is characterized by largely mismanaged contracts with the weavers hardly ever being paid on time and often payment is made in the form of raw materials, rather than cash.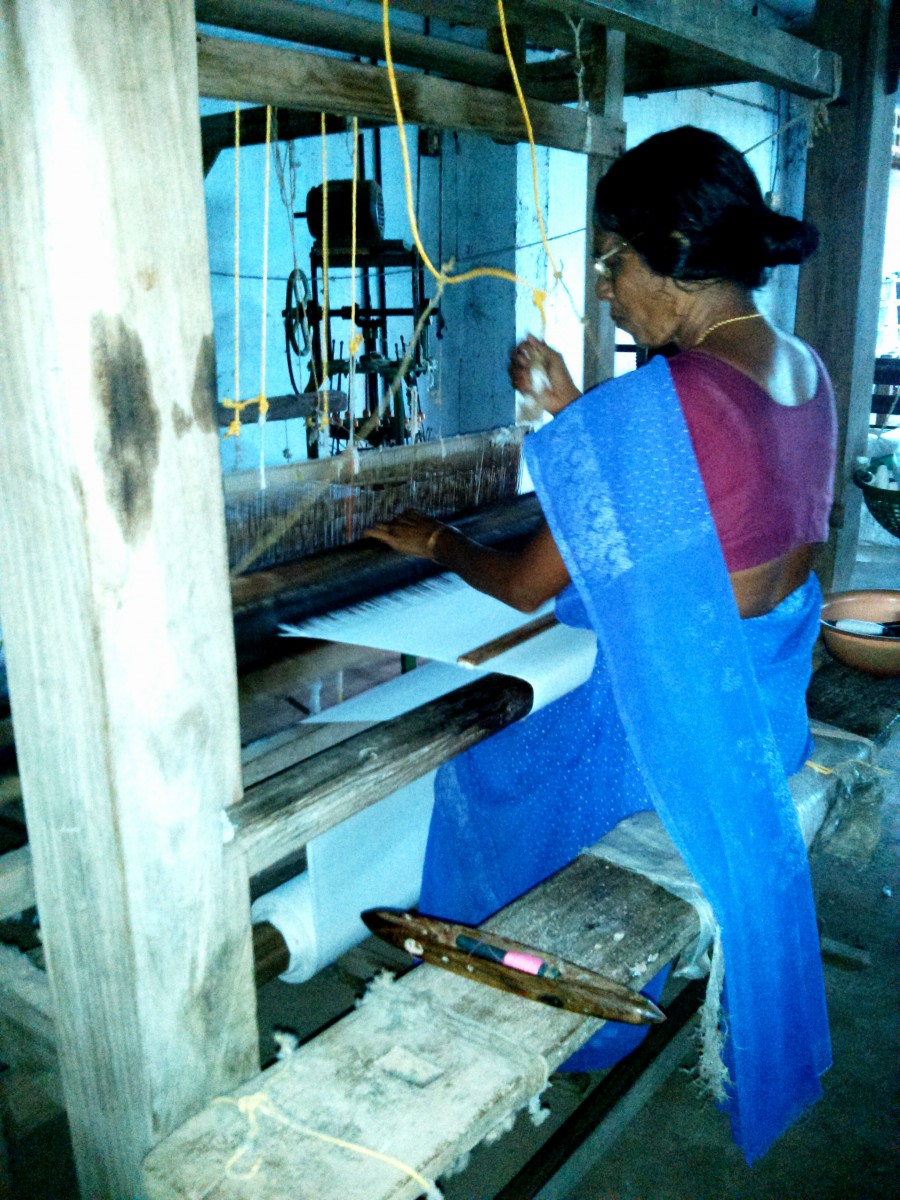 The impact of this reality only fully struck me after I was able to spend a few days with local Thorthu weavers in Kanjiramattom and Kannur, learning the extensive entirety of the handloom production process. This experience left me marveling at the skill and effort required of hand weavers that is then unfortunately rewarded with miniscule and inconsistent compensation. In communities dependent on weaving as a livelihood, this trend has perpetuated devastating poverty. But even in less desperate situations such as those found in Kerala, it has perpetuated an unfortunate disinterest in the profession, ultimately bringing about the slow but steady disappearance of this historically and culturally significant art form. Over the past years, the local hand weaving community in Kanjiramattom has grown in age and diminished in size. And its master weaver, Mani-chettan, is on the brink of retirement without an apprentice whom he can teach his gift—putting his skill and expertise in danger of fading into retirement right along with him.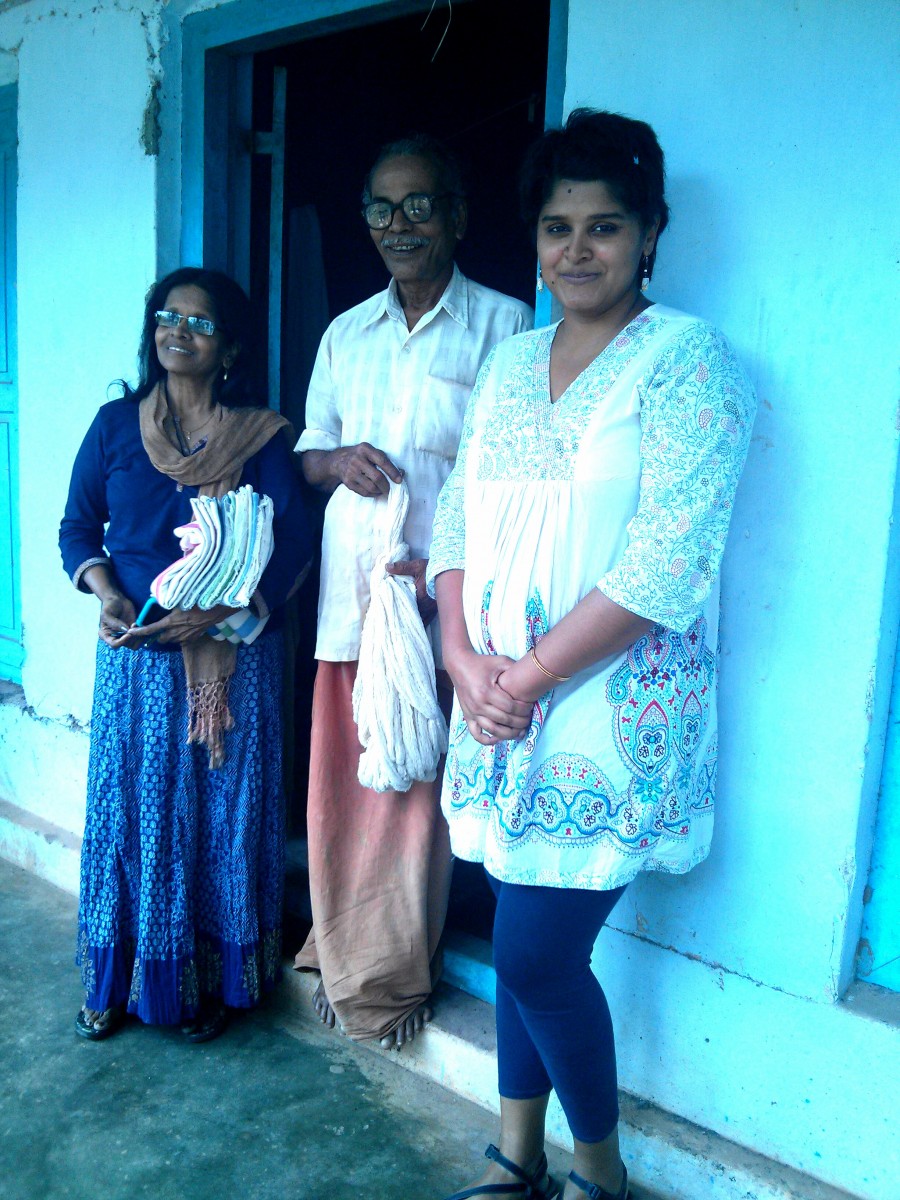 So, what can save an undervalued and ailing art? As it turns out, towels can. Towels and business.
As a sustainable business specialist, it is my instinct to turn towards the market for solutions. And that was exactly the strategy of the local and dynamic mother-daughter duo, Indu Menon (social anthropologist) and Chitra Gopalakrishnan (graphic designer), when they founded KARA Weaves ("KARA")—a fair-trade certified, socially-minded venture that seeks to connect the works of handloom artisans in Kanjiramattom to global markets in order to preserve thorthu weaving as an art-form and a piece of cultural heritage.  KARA's strategy to reactivate the artisans and revive the ailing art is to bring design and market intervention to the local weaving cooperative.
Design intervention: KARA recognizes that the weavers are highly skilled and they already produce a high-quality, useful product.  What they lack is a critical knowledge of current, global design trends which are key to catching the interest of global consumers. KARA bridges this link between ancient and modern by working directly with the weavers to design a range of beautiful thorthu products, from cocktail napkins to beach towels, whose function is compatible with contemporary lifestyles.
Market Intervention: Beyond design, KARA recognizes the importance of leveraging branding and marketing techniques to effectively communicate the value of thorthu to international markets. By creating an online presence, leveraging social media, and attending trade fairs, KARA has generated greater awareness of thorthu fabrics and weavers among global markets and has begun to establish direct international sales channels to sustain demand.
When I talk to Chitra about KARA products, as a designer she emphasizes "form and function" reinforcing that the ultimate value of a thorthu fabric is that it is both beautiful and utilitarian. When I think of KARA products, as a sustainable business specialist, I appreciate their ability to be the foundation of a win-win-win situation. That is, KARA, as a business model, is positioned at the intersection of social, environmental, and economic sustainability.
Social: KARA has evolved as a personal and purposeful business because its founders are passionate and committed to the social objectives important to their community. Indu, as a social anthropologist who had previously studied the personal, social, and economic contexts of hand weavers in southern India, recognized that the only way to enable these artisans to continue to practice and teach their art to future generations was to restore hand weaving as a financially sustainable and aspirational profession. KARA collaborates with weavers on design—focusing on connecting them with the end user and the value of their creations. Additionally, KARA works with the currently fragile cooperative in Kanjiramattom to make sure that it has the support and resources necessary to rebuild the unit amidst this new phase of opportunity. Along the journey to revitalization, KARA has provided its local cooperative with interest-free working capital loans, committed to paying premium wages for their thorthu products, and worked to feed incoming orders to the local unit in order to stabilize growth and propel development.
Environmental: In the textiles industry, where most players are in a 'race to the bottom,' manufacturers seek to cut costs as far as possible through increased usage of energy intensive automated processes and cheap labor. KARA, however, supports the use of handlooms which consume only fairly remunerated manpower. Additionally, KARA products are light-weight and require very little water to wash, dyes utilized are eco-friendly, and waste generated during production is up-cycled or recycled.
Economic: One of the things that I admire most about KARA is the company's ability to deliver social value in an environmentally sustainable manner, and at a profit. In the true spirit of social entrepreneurship, KARA is a venture that was born out of a community challenge recognized and confronted by innovative people who cared enough to create a solution. It was initiated with personal funds and since the date of inception it has been sustained by product revenues. According to Indu and Chitra, "Never relying on donations, grants, or subsidies, and still surviving means that we are at least on the right path to establishing a real solution that can be sustained by its own momentum."
KARA's immediate goal is to fully revive the local hand weaving unit in Kanjiramattom and, ultimately, to develop a sustainable, scalable model that can be replicated among other weaving units within Kerala, and across India.
Over the next several months, this will be my goal as well. In my first few weeks with the KARA team, I have experienced first-hand the ways in which the why and how of a social enterprise become much more important than the what. And so far, I've learned that of course a towel can matter. It matters when its producers care as much about the process and the people involved as they do about the end product. It matters when it gives customers a choice to consume a high-quality, utilitarian product that is sourced and produced in a sustainable way. It matters because it is the result of a company that has joined the ranks of a small, but ever-growing group of companies that maintain social and environmental goals on par with economic goals.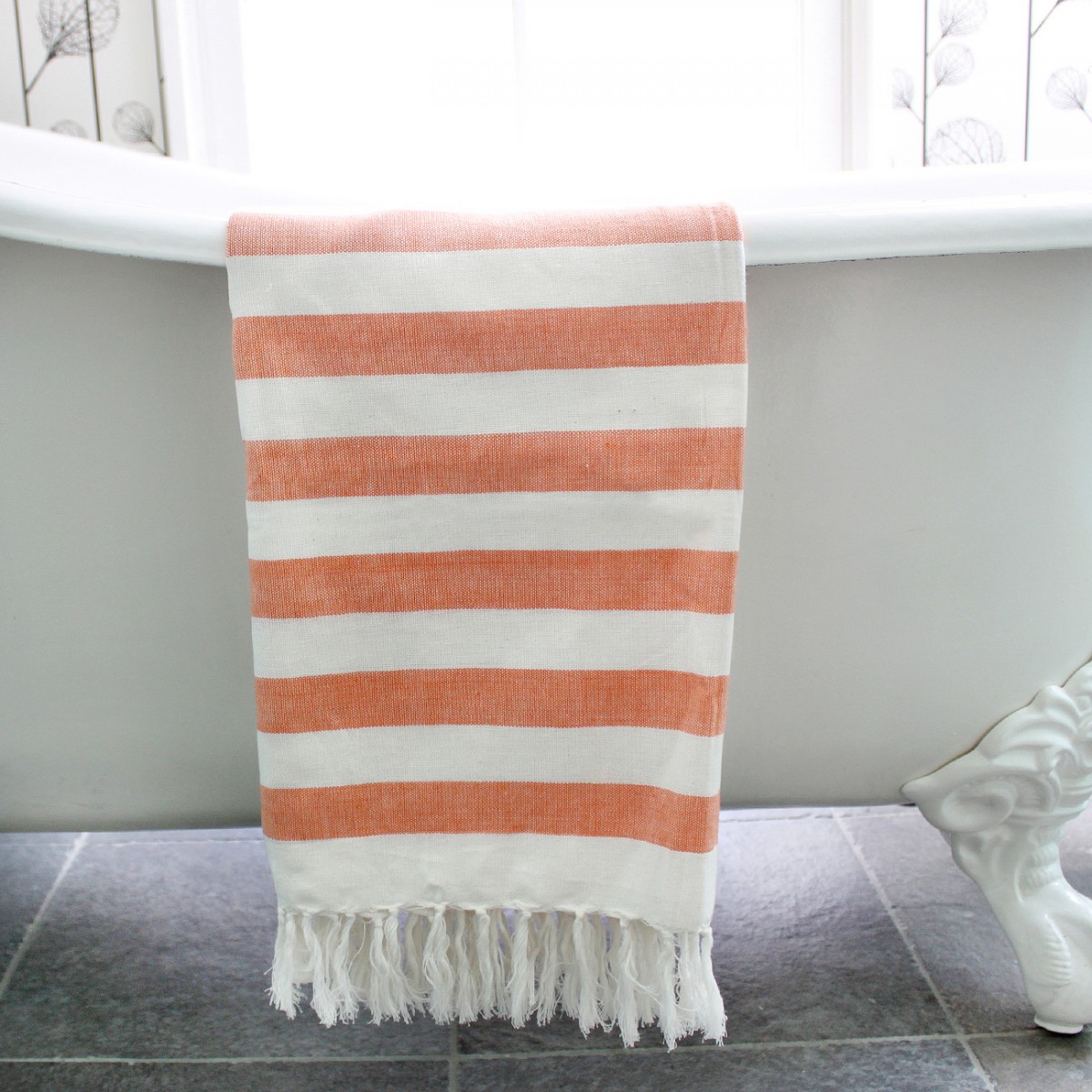 On its own, a towel cannot be expected to change the world, but it does matter because it marks an important contribution to the collective movement towards a better world.

Jessica Custer is an MBAs Without Borders advisor currently serving Kara Weaves, a fair-trade organization that works to sustain local, traditional hand-weaving cultures in Kerala, India. With her MSc in Sustainable Development from HEC Paris, Jessica seeks to aid in the development of socially and environmentally sustainable business models that improve access to critical resources for impoverished populations in emerging markets, thereby empowering individuals to improve their own lives.